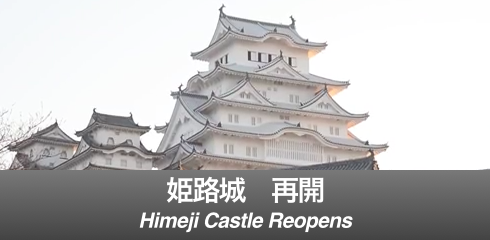 Find the full story with transcripts, pop-up definitions and more at our home on the web: NewsinSlowJapanese.com
姫路城 再開
世界遺産の一つである姫路城が、5年ぶりに再開されました。姫路城は兵庫県の姫路市にある日本のお城です。2009年秋から始まった 「平成の大修理」と呼ばれる大がかりな修理を終え 3月27日に一般公開されました。
大修理は、壁の塗り替えと屋根のふき直しなどを行い、修理後の姫路城を見に、再開日初日から たくさんの観光客が訪れています。
姫路城は、2009年にミシュランガイド(観光地)日本編において最高評価の3つ星に選定されました。
これからの季節、花見と共に姫路城見学にたくさんの人が訪れるでしょう。
Sekai isan no hitotsu de aru himejijō ga, go nen buri ni saikai sare mashi ta. Himejijō wa hyōgo ken no himeji shi ni aru nihon no o shiro desu. Ni sen kyū nen aki kara hajimatta 'heisei no dai shūri' to yobareru ōgakari na shūri o oe sangatsu ni jyu nana nichi ni ippan kōkai sare mashi ta.
dai shūri wa, kabe no nurikae to yane no fuki naoshi nado o okonai, shūri go no himejijō o mi ni, saikai bi shonichi kara takusan no kankō kyaku ga otozure te i masu.
himejijō wa, ni sen kyū nen ni mishurangaido (kankō chi) nihon hen nioite saikō hyōka no 3 tsu boshi ni sentei sare mashi ta.
korekara no kisetsu, hanami to tomoni himejijō kengaku ni takusan no hito ga otozureru deshou.

Podcast: Play in new window | Download