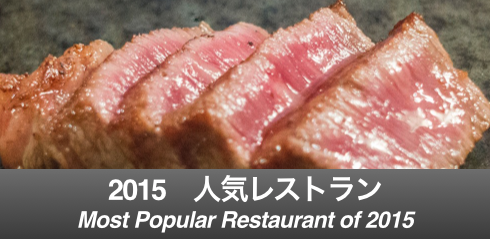 Find the full story with transcripts, pop-up definitions and more at our home on the web: NewsinSlowJapanese.com
2015 人気レストラン
トリップアドバイザーが定期的に行う【外国人に人気レストラン】が発表されました。
今回1位になったレストランは、京都 嵐山にあるステーキ店【おおつか】です。
日本の旅番組でも紹介され、絶賛されました。 
その理由は、【幻のお肉】と呼ばれる村沢牛を使用しています。
村沢牛は、神戸牛や松坂牛のように地名がブランドになっているのではなく、生産者の名前だそうです。
外国人観光客からは、お肉は素晴らしく、行く価値があると高評価を得ています。
外国人観光客だけではなく、日本人もおおつかのステーキを食べに、嵐山まで足をのばす人たちが多いようです。
Torippuadobaizā ga teiki teki ni okonau "gaikoku jin ni ninki resutoran" ga happyō saremashita.
konkai ichi i ni natta resutoran wa, kyōto arashiyama ni aru sutēki ten "ō tsuka" desu.
nihon no tabi bangumi de mo shōkai sare, zessan saremashita.
Sono riyū wa, "maboroshi no oniku" to yobareru murasawa gyu o shiyō shite imasu.
Murasawa gyu wa, kōbe gyu ya matsusaka gyu no yō ni chimei ga burando ni natte iru no de wa naku, seisansha no namae da sō desu.
gaikoku jin kankōkyaku kara wa, oniku wa subarashiku, iku kachi ga aru to kōhyōka o ete imasu. Gaikoku jin kankōkyaku dake de wa naku,
nihonjin mo ōtsuka no sutēki o tabe ni, arashiyama made ashi o nobasu hito tachi ga ōi yō desu.

Podcast: Play in new window | Download