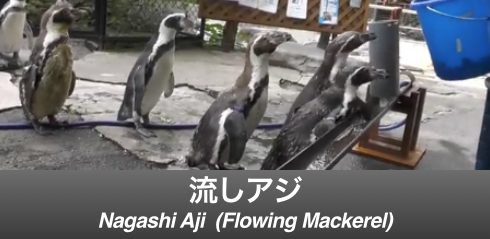 Find the full story with transcripts, pop-up definitions and more at our home on the web: NewsinSlowJapanese.com
流しアジ
日本では、夏になるとそうめんを食べます。そうめんの楽しい食べ方は、流しそうめんです。流しそうめんは、暑い夏にはぴったりの食べ方です。
流しそうめんとは、竹製の樋を使って そうめんを流します。その流れているそうめんを、お箸で上手くすくいながら食べる方法です。
長野県にある動物園では、8月の毎週土曜日だけ、ペンギンのために流しアジをしています。ペンギンたちは、樋から流れるアジを必死でキャッチします。流しアジで日本の猛暑を乗り切っているようです。
Nihon de wa, natsu ni naru to sōmen o tabemasu. sōmen no tanoshii tabekata wa, nagashi sōmen desu. Nagashi sōmen wa, atsui natsu ni wa pittari no tabekata desu.
nagashi sōmen to wa, takesei no toi o tsukatte sōmen o nagashimasu. sono nagarete iru sōmen o, ohashi de umaku sukui nagara taberu hōhō desu.
nagano ken ni aru dōbutsu en dewa, hachigatsu no maishū doyōbi dake, pengin no tame ni nagashi aji o shite imasu. pengintachi wa, toi kara nagareru aji o hisshi de kyacchi shimasu. nagashi aji de nihon no mōsho o norikitte iru yōdesu.

Podcast: Play in new window | Download