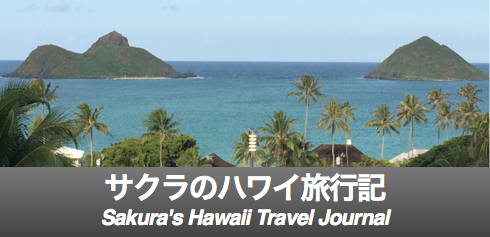 Find the full story with transcripts, pop-up definitions and more at our home on the web: NewsinSlowJapanese.com
サクラのハワイ旅行記
先日、有給を使って、5泊7日のハワイのオアフ島へ旅行に行ってきました。私にとって、少し遅めの夏休み休暇でした。
今まで、南米やメキシコ、ヨーロッパなど旅行してきましたが、ハワイは今回が初めてでした。
滞在中は、サーフィンやスタンドアップパドリングにも挑戦しました。
また、レンタカーを借りていたので、ラニカイビーチ、カネオヘ湾、ハレイワなどたくさんの場所を知ることが出来ました。
旅先で知り合ったハワイ在住の方が、『たった1度の人生なんだから、やりたいことをしないといけない』と言った言葉が、とても心に響きました。
Senjitsu, yūkyū o tsukatte, go haku nanoka no hawai no oafu tō e ryokō ni itte kimashita. Watashi nitotte sukoshi oso me no natsuyasumi kyūka deshita.
imamade, nanbei ya mekishiko, yōroppa nado ryokō shitekimashita ga, hawai wa konkai ga hajimete deshita.
taizai chū wa, sāfin ya sutandoappupadoringu ni mo chōsen shimashita.
mata, rentakā o kariteitanode, ranikaibīchi, kaneohe wan, hareiwa nado takusan no basho o shiru koto ga dekimashita.
tabisaki de shiriatta hawai zaijū no hō ga, 'tatta ichi do no jinsei nandakara, yaritai koto o shinai to ikenai' to itta kotoba ga, totemo kokoro ni hibiki mashita.

Podcast: Play in new window | Download