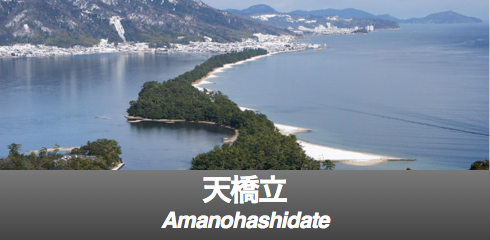 Find the full story with transcripts, pop-up definitions and more at our home on the web: NewsinSlowJapanese.com
天橋立
京都にはたくさんの観光地があります。お寺や神社だけではなく、少し足を伸ばして天橋立に行くのをお勧めします。
天橋立は、京都府の北部、日本海の宮津湾にあります。幅20メートルから170メートルの砂浜が長さ3.6km続きます。そこには8000本の松が茂っています。海と森が一体になったような、神秘的な場所です。
その細長い形が、天にかかる橋のように見えることから、天橋立と名付けられました。
天橋立を歩いて渡ると片道50分ほどです。レンタサイクルでサイクリングも楽しめます。夏は海で泳ぐことも出きます。
Kyōto niwa takusan no kankōchi ga arimasu. Otera ya jinja dake dewa naku, sukoshi ashi o nobashite amanohashidate ni iku no o osusumeshimasu.
amanohashidate wa, kyōto fu no hokubu, nihonkai no miyazuwan ni arimasu. Haba niju mētoru kara hyakunanaju mētoru no sunahama ga nagasa san ten roku kiromētoru tsuzukimasu. Soko ni wa hassen bon no matsu ga shigette imasu. Umi to mori ga ittai ni natta yō na, shinpiteki na basho desu.
sono hosonagai katachi ga, ten ni kakaru hashi no yō ni mieru koto kara, amanohashidate to nazukeraremashita.
amanohashidate o aruite wataru to katamichi gojyuppun hodo desu. Rentasaikuru de saikuringu mo tanoshimemasu. Natsu wa umi de oyogu koto mo dekimasu

Podcast: Play in new window | Download