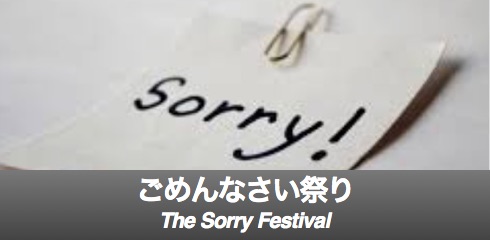 Find the full story with transcripts, pop-up definitions and more at our home on the web: NewsinSlowJapanese.com
ごめんなさい祭り
「ごめんなさい」と言って素直に謝ることが難しい時があります。簡単な言葉のようですが、声を出して相手に伝えるには勇気がいる言葉です。
「ごめんなさい」と言って謝ると、気持ちは楽になるし、謝られた方も快く相手を許す事が出来ます。「ごめんなさい」は、とても大切な言葉です。
高知・南国市には、後免町(ごめんまち)という名前の町があり、南国市では、町の名前にちなんで、ごめんなさいを叫ぶイベント「ごめんな祭(さい)」を3年前から開催しています。
日頃言えない人に大声で「ごめんなさい!」と叫んで、参加者はすっきりしているようです。
'gomennasai' to itte sunao ni ayamaru koto ga muzukashii toki ga arimasu. Kantan na kotoba no yō desu ga, koe o dashite aite ni tsutaeru niwa yūki ga iru kotoba desu.
'gomennasai' to itte ayamaru to, kimochi wa raku ni naru shi, ayamarareta hō mo kokoroyoku aite o yurusu koto ga deki masu. 'gomennasai' wa, totemo taisetsu na kotoba desu.
kōchi. nangoku shi ni wa, gomen machi (gomen machi) toyuu namae no machi ga ari, nangoku shi de wa, machi no namae ni chinan de, gomennasai o sakebu ibento 'gomen na sai (sai)' o san nen mae kara kaisai shiteimasu.
higoro ie nai hito ni ōgoe de 'gomennasai!' to saken de, sankasha wa sukkiri shiteiru yōdesu.

Podcast: Play in new window | Download