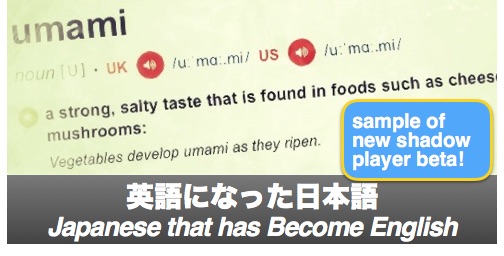 Find the full story with transcripts, pop-up definitions and more at our home on the web: NewsinSlowJapanese.com
日本の文化や食文化が海外に広まり、日本語のままでも海外で通じる単語が増えてきています。例えば、枝豆、旨味、ラーメン、漫画、折り紙などの単語は日本語ですが、海外でも通じます。日本人として嬉しく思います。
このような日本語が英語になった単語の中に、過労死(karoshi)と言った単語があります。過労死とは、長時間の残業や休みなしに仕事をさせられ、精神的、肉体的の負担で労働者が突然死んでしまう事を言います。
過労死は、2002年にオックスフォードの辞書に英語として登録されました。世界には、あまり広まって欲しくない単語です。
Nihon no bunka ya shokubunka ga kaigai ni hiromari, nihongo no mama demo kaigai de tsūjiru tango ga fuete kite imasu. Tatoeba, edamame, umami, rāmen, manga, origami nado no tango wa nihongo desu ga, kaigai de mo tsūjimasu. Nihonjin toshite ureshiku omoimasu.
kono yō na nihongo ga eigo ni natta tango no naka ni, karōshi to itta tango ga arimasu. Karōshi to wa, chōjikan no zangyō ya yasumi nashi ni shigoto o saserare, seishinteki, nikutaiteki no futan de rōdōsha ga totsuzen shinde shimau koto o iimasu.
karōshi wa, nisenni nen ni okkusufōdo no jisho ni eigo toshite tōroku saremashita. Sekai ni wa, amari hiromatte hoshiku nai tango desu.

Podcast: Play in new window | Download